Project Description
Smart Poultry Farming | Wireless IoT Solution at Kinghoo with SenseCAP LoRaWAN Products
Today, as more consumers are aware of the importance of safety and traceability, animal farmers need to adopt a newer and smarter solution in their precision farming practice to meet consumers' premium demands for food. As a so-called traditional industry, the status quo of husbandry reveals that it is comparatively less digitized than most of the other pillar industries, according to the digitalization index of the McKinsey Global Institute. Thus, certain changes in the infrastructure can be made to improve the overall quality of the farming process.
It is important to note that feed, water, and environment are the three fundamentals that determine the condition of animal farming. To accurately monitor environmental conditions, LoRaWAN environmental sensing is one of the most suitable technologies in constructing IoT in the animal agricultural industry. Because of its cost-sensitive attribute, maintaining the Returning on Investment (ROI) of animal agriculture is a key challenge for all farmers and animal farming practitioners. Thus, Kinghoo AgroTech, a livestock corporation, chose to apply the great performed Seeed SenseCAP Wireless LoRaWAN series of sensors and gateways to assist the IoT solutions for its poultry farms and livestock farms by detecting the environmental changes by the preset interval.
Here are several reasons why SenseCAP became the top choices in constructing IoT in this husbandry scenario:
Waterproof & Dustproof, and Strong Robustness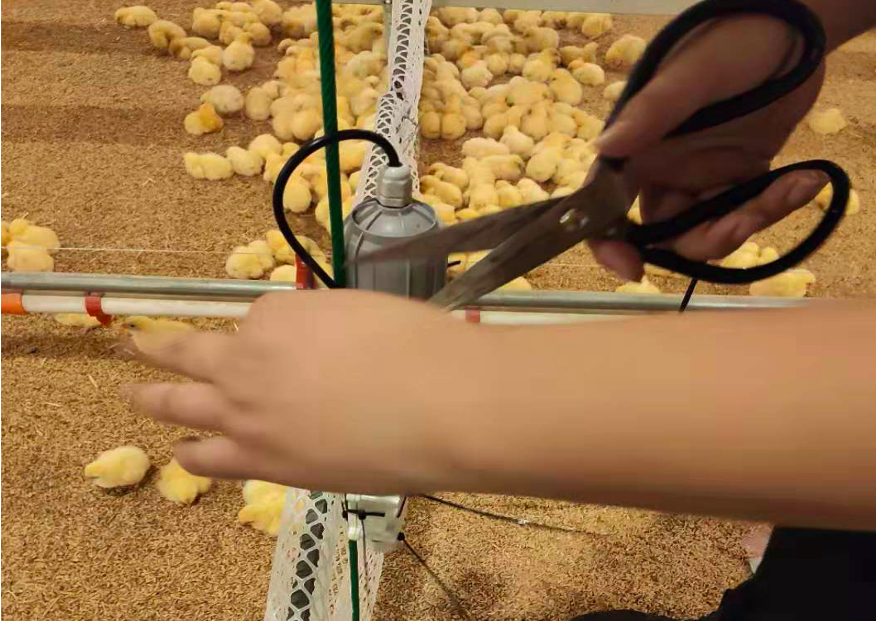 (The deployment of SenseCAP CO2 Sensor in pastured poultry farming)
The parameters of CO2, light, air temperature and humidity are critical for farmers to analyze the growth and health conditions of chicken. But it is always challenging to detect the condition in animal farms because there are way more uncontrollable variables potentially interrupting the obtaining and transmission of data. To accurately measure the air temperature and humidity in pastured poultry farming with little chicks inside, for instance, sensors have to be placed near to the ground full of animal waste and dust. The movement of animals would also potentially interrupt the obtaining of data. SenseCAP LoRaWAN sensors are able to confront all the problems listed above. This series of industrial-grade products feature strong robustness. It is hard to be destroyed, whether through scraping or knocking, by the animals. As well, with the IP66 enclosure, it is watertight and dustproof. The waste, liquid, and dust from the surrounding would not get through the surface to interrupt the transmission of data of sensors. Besides, the optimal breathable aperture gives the SenseCAP CO2 sensor a high performance with accuracy while maintaining the dustproof capability. This is very suitable to be used in chicken farms and other similar environments.
Cost-saving: Low power consumption, Long battery lifespan, and Long distance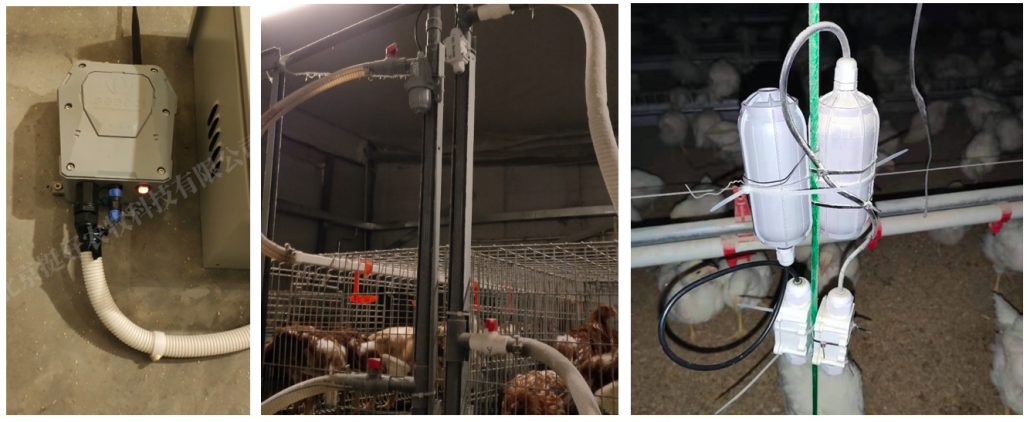 (The SenseCAP Gateway deployed in the control room, and the CO2 Sensors deployed in chicken houses indoor and outdoor)
SenseCAP supports LoRaWAN technology, which ensures wireless sensors deployed in farms to work over long distances and with low power consumption simultaneously for years. First, only one gateway deployed in the control room is needed to connect with hundreds of sensors deployed in multiple farms, and the actual transmission distance is up to 2 km with obstacles. Farmers can obtain data from SenseCAP LoRaWAN sensors in every 5 mins. And the battery of SenseCAP has a comparatively long lifespan: the average lifespan of LoRaWAN sensors varies from 3 to 8 years. This is quite user-friendly as farmers do not have to replace the battery frequently under inconvenient conditions. In husbandry farms with considerable size, SenseCAP products significantly reduce unnecessary costs from top to bottom, because only a minimum amount of gateways and sensors are required for the scenario to replace manual labor.
Easy installment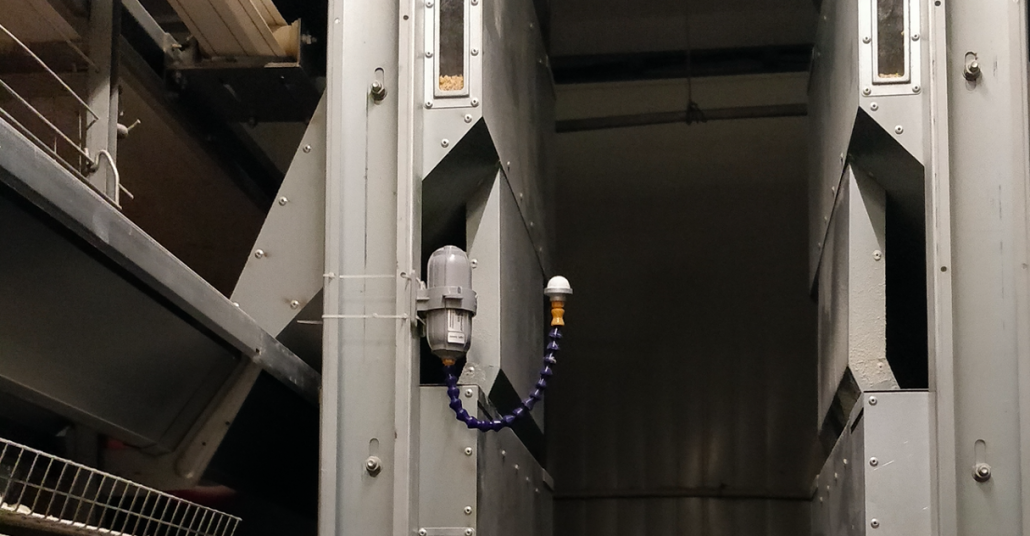 (Data from LoRaWAN Light Sensor are critical for determining the health condition of animals)
In typical enclosed or outdoor environments with complicated structures, electronic wires fail to be deployed. Especially in husbandries where animals are extremely sensitive to environmental factors like the concentration of harmful gases, sensors need to be installed all across the farm to reduce the possible mortality resulting from non-efficient ventilation or the accumulation of feces, ammonia, and CO2. Every nuance difference can result in serious consequences. Moreover, wireless devices are easy to be removed to coordinate necessary regular cleaning and disinfection routines in poultry farms. SenseCAP wireless Sensors are products that can be disassembled and installed within a couple of minutes, and they have no risk of water leakage or electric leakage as wireline devices have. It would not bring extra troublesome to farmers at all. Therefore, the wireless sensor network is the only solution to realize IoT in this example, as it does not require constant charging or use of wires to connect multiple sensors and gateways that cover the entire field. SenseCAP LoRaWAN wireless sensors reduce the workload of deploying 10 to 20 meters of wires around the giant animal farms. According to the feedback from Kinghoo, SenseCAP is easy to install without disrupting the operation of farms because of its wireless feature, compact size, and advanced battery-backed architecture.
SenseCAP products are an important ingredient in our smart farming solution which we are providing to our domestic and international customers. SenseCAP LoRaWan sensors which are wireless, and its futuristic ergonomic design has cut down our implementation time from 3-4 weeks to a couple of days. SenseCAP's entire product line is an integral part of our current and future road map

Kinghoo Agro Tech CEO Niraj Prajapati comments about SenseCAP when talking about the solution
The above-mentioned items are among many of the merits of SenseCAP series products. The collaboration with Kinghoo is a great example showing that SenseCAP IoT series products are a great fit for applications in poultry farming, and of course other categories of husbandry.
Seeed is willing to cooperate with more agricultural practitioners to empower digital transformation in agriculture in the future!
Besides, SenseCAP is not just for agriculture, it can play an important role in many other environmental sensing scenarios. Please feel free to contact us if you have any demands and inquire.
Kinghoo AgroTech is a corporation focusing on smart farming solutions for swine and poultry. They copyrighted the APP for smart diagnosis of animals in both Chinese and English. By grounding up algorithm applied to diagnosis and chatbot, the first APP of Kinghoo AgroTech uses AI + AR for diagnosis and created disease knowledge base for animal farms. It helps provide superior farm design, equipment importing, Internet of Things solutions, and software customization for many swine and poultry farms around China and the globe.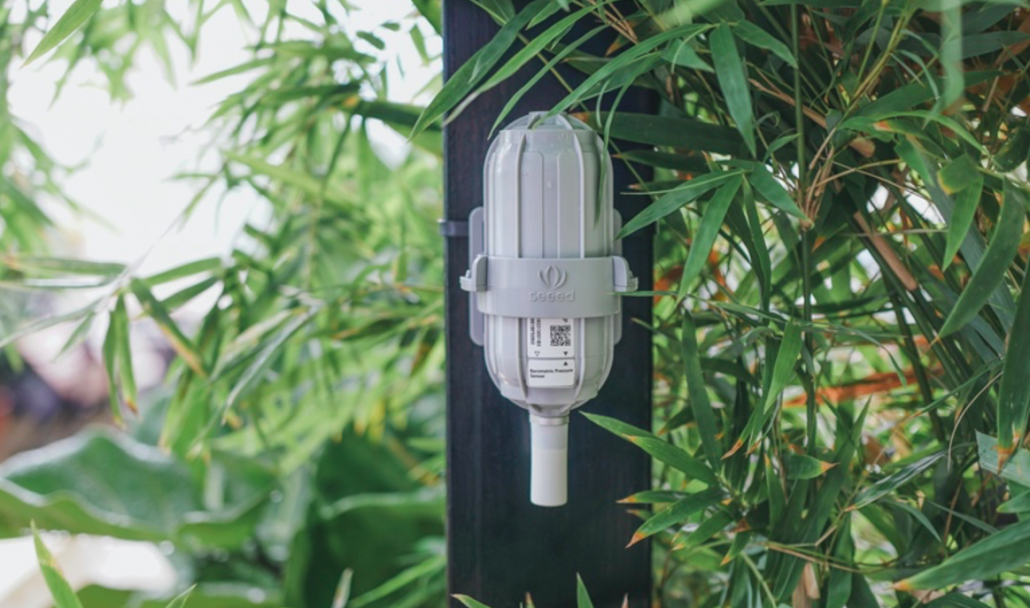 SenseCAP is a series of industrial IoT products. Its LoRaWAN version is based on LoRaWAN protocol and deployable worldwide with multiple ISM bands. SenseCAP is encapsulated in an IP66 enclosure, making it applicable in outdoor remote sensing scenarios such as Smart Farming, Smart City, and other IoT applications that need low-power, long-distance, and long-term data collection. SenseCAP will be available for purchase soon. If you have any questions, feel free to leave a comment here, email us ([email protected]), or join the discussion at Seeed Forum.
Other Use Cases: