Wireless Smart Agriculture Kit – Greenhouses
Wireless Smart Agriculture Kit for remote monitoring micro climate and soil parameters in Greenhouses with LoRaWAN Sensors. It includes:
Features
Support LoRaWAN protocol Class A

High reliability and stability

Ultra-wide-distance transmission: 10km in line of sight , 2 km in urban scenes

Battery life ≥ 6 years

All parts are certified IP66 and suitable for outdoor applications

Rapid installation and deployment

Flexible cloud services with Open API for further development
Easy deployment

The SenseCAP Kit provides a wireless solution for Smart Farming and Precision Agriculture using LoRaWAN technology. This integrated solution can precisely monitor micro climates and soil conditions inside a greenhouse. Precise information about all parameters in the greenhouse help to create the perfect micro climate and growth enviornment for the plants to maximize yields while being more energy efficient .
The kit contains a gateway which collects data from the sensors and uploads it to the cloud for further analyzing. The sensors included can measure:
Air temperature and humidity
Barometric pressure
Light intensity
Soil moisture and temperature
CO2
Because they are wireless they do not have to be in the same spot or require a cable connection to the gateway and the Kit can easily be expanded with new sensors.
The Gateway uses the LoRaWAN technology to connect to the wireless sensor probes and collect remote environmental data. The  LoRaWAN technology allows the gateway to receive data from sensors that are up to 10km and even in urban areas reaches 2km, enough for even the largest greenhouses.. It serves as an anchor point in the geographical center of the area where the sensors are deployed  . After collecting the data from the sensors the gateway can upload the data to the cloud either via 4G or ethernet cable.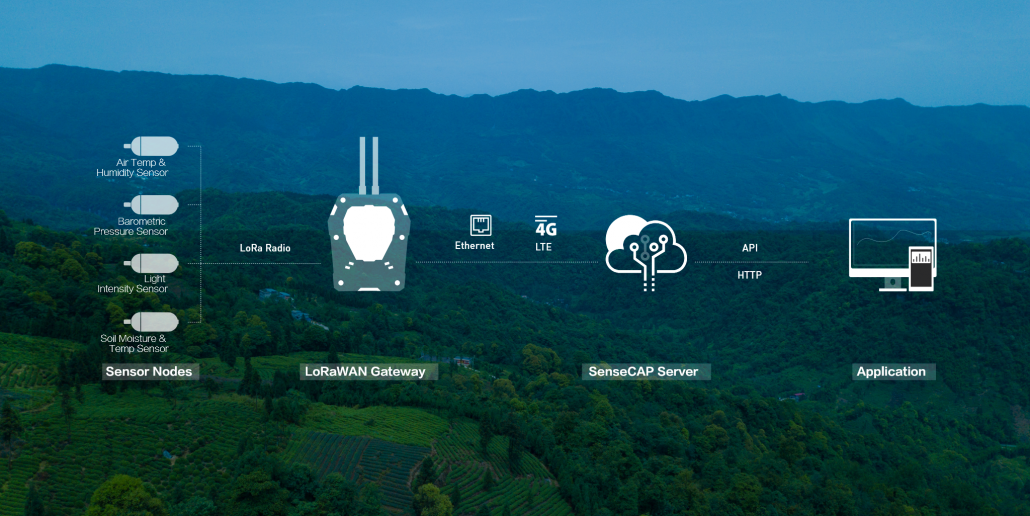 The SenseCAP Sensors consists of the sensor probes and the node. The sensor nodes contain a data logger that locally collects and saves environmental parameters. After a certain time, defined by the user, the Sensor Node transmits all the data it has collected to the gateway via the LoRaWAN protocoll.
The Sensor Node also contains a battery pack for power which depending on the circumstances can have a battery life for up to 8 years.
Software
The data can be uploaded to a private server or directly to the SenseCAP cloud where it can get viewed and analyzed. On the SenseCAP cloud platform you have easy access to the data from all your sensors. The SenseCAP dashboard is completely customizable and gives an overview over the important measurements to always monitor the ideal growth environment.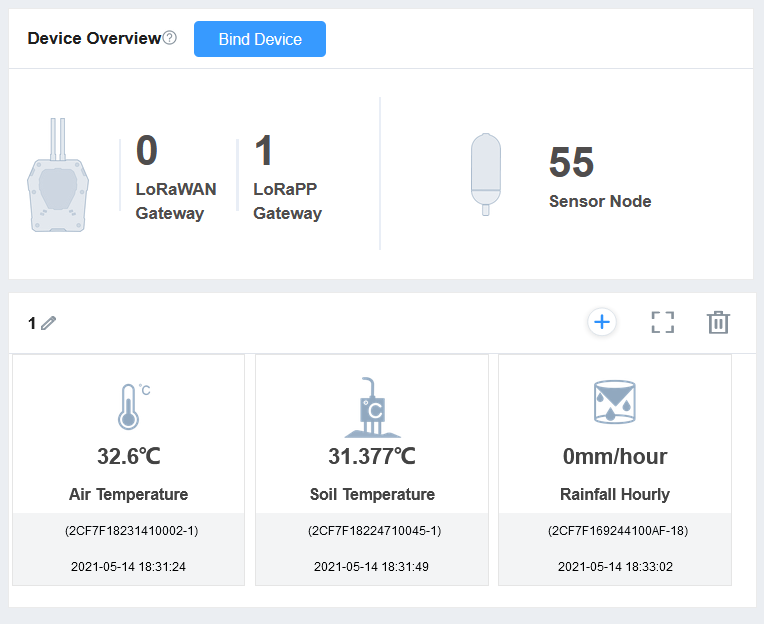 Our software platform also offers an API which allows users to build their own applications.
Applications
The Kit was designed for monitoring conditions in greenhouses. It can be employed for:
Vertical Farming

Cannabis Growing

Hydroponics

Aquaponics